TPLink Deco X20 AX1800 Whole Home Mesh Wi-Fi 6 System – [3PACK]
Short Description
Key Features:
Enhanced Whole Home Coverage
Seamless Roaming
Connects over 150 Devices
Faster Wi-Fi 6 Speed
Greatly Reduced Lag
Detailed Description
Faster Connections: Wi-Fi 6 speeds up to 1,800 Mbps—1,201 Mbps on 5 GHz and 574 Mbps on 2.4 GHz.
Connect More Devices: OFDMA and MU-MIMO technology quadruple capacity to enable simultaneous transmission to more devices.
Boosted Seamless Coverage: Achieve seamless whole home coverage with a clearer and stronger whole home Wi-Fi signal generated by Wi-Fi 6.
Ultra-Low Latency: Greater reduction in latency enables more responsive gaming and video chatting.
One Unified Network: Multiple units form a whole-home network that auto-selects the best connection as you move around your home.
Total Security: WPA3 encryption and TP-Link HomeCareTM provide personalized features, including Parental Controls, Antivirus, and Quality of Service (QoS) to ensure a safer online experience.
Setup Made Easier Than Ever: The Deco app walks you through setup step-by-step.
Meet the Next-Gen Mesh Wi-Fi
Next-Gen AX1800 Whole Home Mesh Wi-Fi 6 System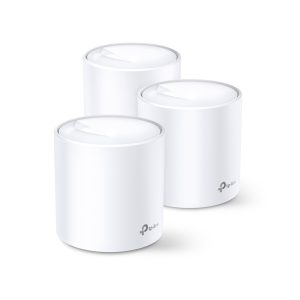 Advanced Mesh Powered by Wi-Fi 6
Armed with Wi-Fi 6 technology, Deco whole home mesh Wi-Fi is designed to deliver a huge boost in coverage, speed, and total capacity. Get on the latest mesh Wi-Fi to enjoy the future network that loads faster and connects more. △
Enhanced Whole Home Coverage
Seamless Roaming
Connects over 150 Devices
Faster Wi-Fi 6 Speed
Greatly Reduced Lag
Wi-Fi Dead Zone Killer
With clearer and stronger signals enhanced by BSS Color and Beamforming, Deco X20 boosts broader whole home Wi-Fi up to 5,800 ft2 (3-pack).† Wireless connections and optional Ethernet backhaul work together to link Deco units, providing even faster network speeds and truly seamless coverage. Want more coverage? Simply add another Deco.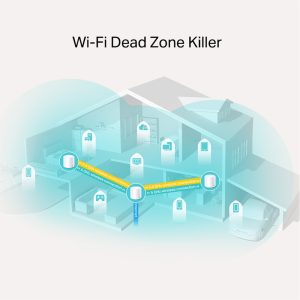 True Seamless Roaming for Greater Experiences
TP-Link Mesh means Deco units work together to form one unified network. Your phone or tablet automatically connects to the fastest Deco as you move through your home, creating a truly seamless Wi-Fi experience
More Connections for Immersive Streaming
Enjoy a more efficient network with 4× the average throughput on connected devices in dense environments thanks to Wi-Fi 6 technology△. Deco X20 is tested to connect over 150 devices without dragging down performance†.
Connection over 150 devices
High-speed Downloading

IP Camera Streaming

720P Streaming

Web Browsing

Smart Home Devices

4K Streaming

1080P Streaming
Faster Wi-Fi 6 Speed = No Wait
The latest 1024-QAM and higher symbol rate combines to boost speeds up to 1.8 Gbps—ideal for bandwidth-intensive tasks like cloud gaming and 4K UHD video. Families will enjoy immersive live-streaming with flawless video and clear audio without buffering.△†
5GHz: –

2.4GHz: –
1024-QAM – More data encoded at one time

Higher Symbol Rate – 11% faster speed

Greatly Reduced Lag, More Fun

Wi-Fi 6 brings stable and responsive Wi-Fi connections to tomorrow's hyper-connected home. Enjoy more responsive gaming and seamless video chatting even when multiple compatible devices are connected and transmitting data at the same time△.

Your Home, Our Care

Customize your home network with enhanced security using a kit of features built in TP-Link HomeCareTM. Whether protecting your sensitive data or limiting the access of kids and guests, HomeCareTM provides you the tools you need to fully manage your network.§

Robust Parental Controls

Block inappropriate content and restrict time spent online

Built-In Antivirus

Protect all connected devices in your home from online threats

Quality of Service

Prioritize devices and applications for faster performance when needed

Setup Just Got a Lot Easier

Unbox Deco, install the app and then simply follow the on-screen directions. Deco app will take care of the rest, getting your network up and running in minutes.

Connect Deco to your cable modem and power on both devices

Download and launch the Deco app; just follow the in-app directions to finish the setup steps

Follow in-app instructions to configure your Deco system.

Wi-Fi Made Easy

Easy Management

Manage your Wi-Fi at home or away on the Deco app, including seeing all connected devices, prioritizing your own, setting up a guest network, and more.

Voice Control

Pair with Alexa to control Deco X20 with simple voice commands. Enjoy the convenient life.

All Decos Work Together

Deco X20 is compatible with every other Deco model to form a mesh network. Expand mesh Wi-Fi coverage anytime by simply adding more Decos.