Phottix Ares II Flash Trigger Set ( TRANSMITTER + RECEIVER)
Short Description
Frequency: 2.4 GHz
Range: 492′
16 Channels; 4 Groups
Digital ID Codes
Backlit LCD Screen
Max Sync Speed: 1/250 Second
Mounts to Camera's Hot Shoe
Runs on Two AA Batteries
Compatible with Strato II Receivers
Detailed Description
Phottix Ares II Wireless Flash Trigger Kit with 16 channels and 4 groups is used to trigger hot shoe flashes, compacts and battery pack lighting in any situation. This kit is capable of firing lights up to 490 feet apart.
Phottix Ares II Transmitter
Embrace reliable wireless triggering of your flashes with this Ares II Flash Trigger Transmitter from Phottix. This system offers an incredible range of 492′ along with a 2.4 GHz frequency to help limit interference. Users will also have access to 16 channels, the first four of which will support Strato II receivers as well, and four groups. Users can also set a digital ID code in order to ensure there is no interference from other users in the area. All of these settings can easily be set and checked via the backlit LCD screen for convenience. The Ares II system has a maximum sync speed of 1/250 second and attaches easily to most camera's hot shoe. Additionally, it runs on two AA batteries.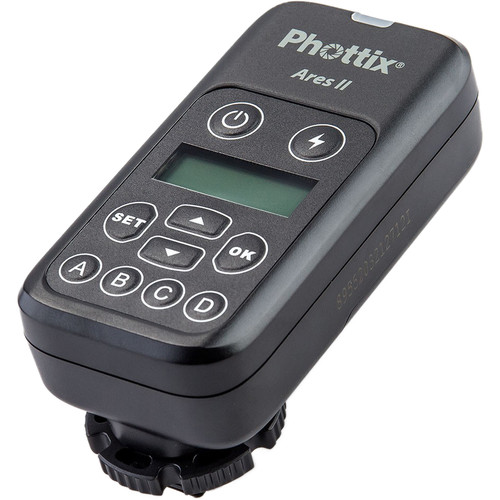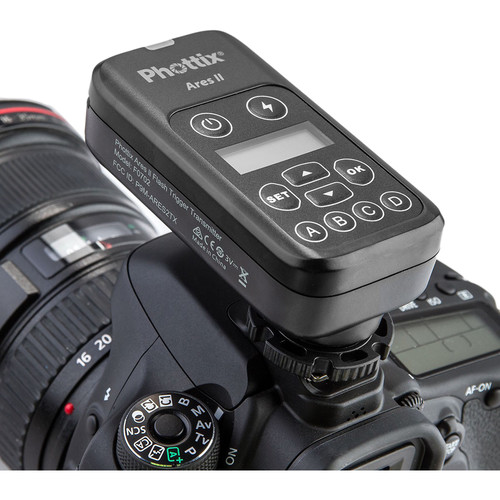 Phottix Ares II Receiver
Add wireless enhancement to your flash's capabilities with the Ares II Flash Trigger Receiver from Phottix. The receiver features both a hot shoe and a 3.5mm sync port for connecting to both on-camera flashes and studio strobes. Once connected, this receiver can then be triggered by a separately available Ares II transmitter from a distance of up to 492′. This system also uses a 2.4 GHz frequency to limit interference as well as access to 16 channels, 4 groups, and digital ID codes so that it won't be accidentally tripped by nearby photographers.
Offering advanced versatility for manual shooters, the receiver is compatible with the Sekonic L-478DR-PX meter that will wirelessly connect with it at a distance, trip the flash, and display the exposure information on its screen. The system's separately-purchased transmitter can also be used with the Strato wireless system and will trigger Juno flashes with built-in Ares II receivers.
The Ares II receiver is easy to mount on a stand or bracket via a cold shoe mount with 1/4″-20 thread on the base, and it runs on two AA batteries. It has a maximum sync speed of 1/250 second and is equipped with a backlit LCD for checking and changing settings.