Godox SK400II-V Studio Flash Monolight – Light Only
Short Description
400Ws, 5700K Color Temperature
LED Modeling Lamp
0.1 to 1.5 Second Recycling
Flash Duration: 1/800 to 1/2000 Second
1/16 to 1/1 Power Range
Multiple Trigger Modes
Supports Wireless Control
Guide Number: 213′
110-120 VAC
Detailed Description
Godox SK400II-V (LED) Studio Flash
The GODOX SK400IIv is a robust and dependable studio monolight strobe suitable for both professional and amateur photographers alike, ideal for entry-level home studio use. This compact studio strobe features everything you need to get started in the world of studio flash photography, including fast recycling times and a 5-stop power range. It features a built-in 2.4GHz flash receiver, making it compatible with any of the flash triggers in the Pixapro ONE SYSTEM. This allows you to mix and match with other flash and Speedlite models in the PIXAPRO or GODOX range. This Flash is Suitable for: Home Studio, School, Portrait and Pet Photography.
New LED Modelling Lamp
The SK400IIv features a 10W LED modelling lamp enabling you to get an idea of how your lighting is going to look before you take the image. Since the modelling lamp is LED as opposed t Halogen, it runs considerably cooler, making it safe for use in enclosed modifiers such as Snoots and Fresnel lenses etc.
Short Recycling Times
The SK400IIv's have recycle-times of just over one second at full power, enabling you to take shots more frequently, ensuring that you don't miss any key moments. It also features an audible flash-ready tone, notifying you when the unit is ready for the next flash (the flash-ready tone can be switched off if not needed).
Large Back-Lit Display
The SK400IIv, features a large user-friendly Back-lit Digital Display, enabling you to easily see and adjust your settings even in darker shooting environments.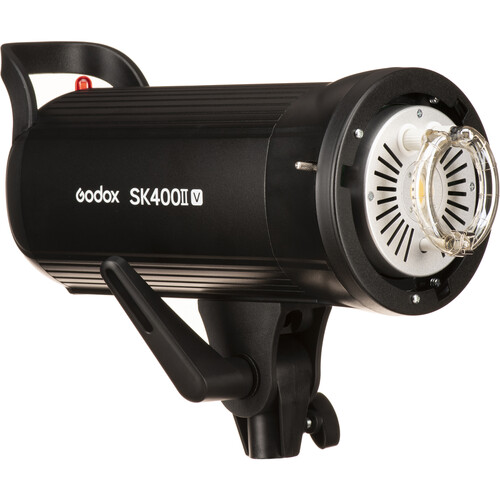 5-Stop Power Range
The GODOX SK400IIv features a 5-stop power range (1/1 – 1/16 power) which can be adjusted in 1/10-stop increments. It also comes with a 150w halogen modelling bulb that can be dimmed anywhere between 100% and 5% brightness.
Anti-Pre-Flash Function
It also features an intelligent slave cell (Pre-flash detector system) cell that can be set to ignore a Pre-Flash, which will enable the SK400IIv to be used alongside any other speed lights or any other TTL strobe.
Built-In 2.4GHz Flash Receiver
The SK400IIv features a built-in 2.4GHz flash receiver, which allows it to be used in conjunction with the PiXAPRO ST-III, ST-III+, ST-IV, or Pro AC 2.4GHz flash Triggers (GODOX X1, X2, XPro pr XT-16 triggers). This enables you to control the power of your flash head, turn the modelling lamp on/off, and trigger the flash.
S-Type Fitting
The SK400IIv has an S-Type Bayonet fitting making it compatible with a wide range of light modifiers with an S-Type fitting such as Beauty Dishes, Softboxes, Reflectors and more.
The GODOXSK400IIv is a simple, easy-to-use unit for anyone who wishes to get started with flash photography. The GODOX SK400IIv range is the best introduction to studio flash!