Godox MS300-V Studio Flash Monolight – Set of 3
Short Description
3 x 300Ws Strobes (LED Model Lamp)
2 x Softboxes with Speed Rings
40″ Umbrella (Silver/Black)
Standard Bowens-Type Reflector
3 x Light Stands (6.6′)
XT-16 Wireless Power-Control Trigger
Carrying Case
Detailed Description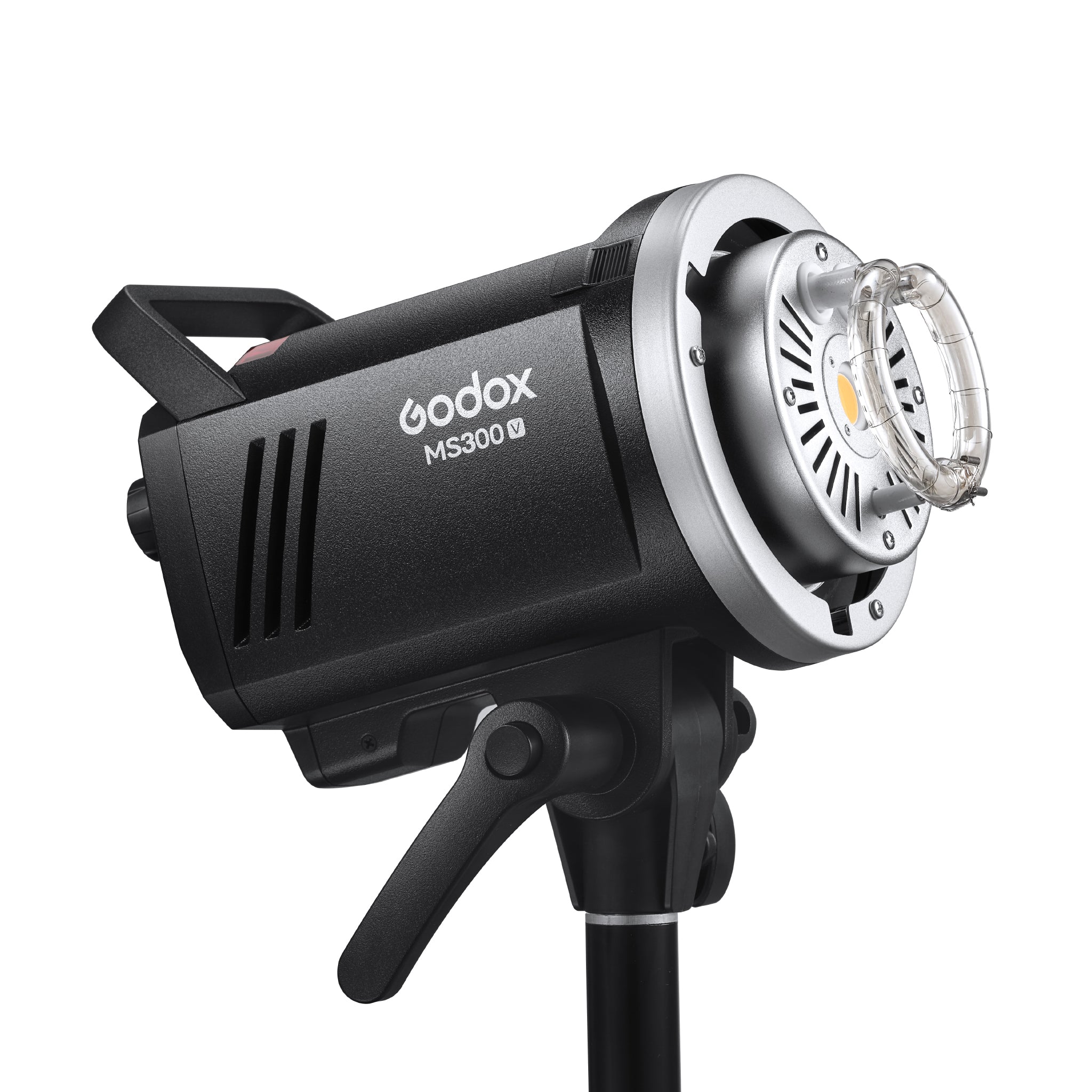 Godox MS300-V Studio Flash Monolight
With a guide number of 190′, the MS300-V Studio Flash Monolight from Godox is a 5800K flash source that replaces the original 150W halogen lamp model with a 10W LED modeling lamp that draws very little power with great brightness. It features a 0.1 to 1.8 second recycling time with flash durations as short as 1/2000 sec. Power is variable from 1/32 to full power while the 10W LED modeling light is adjustable from 5 to 100%. Triggering options include sync cord, optical, test button, and wireless power control. The MS300-V is ready to run on 110 to 120 VAC mains power.
Godox XT-16 Wireless Power-Control Flash Trigger 2.4G (Transmitter and Receiver)
The brain of the Godox wireless power control system, the shoe-mounted XT-16 Wireless Power-Control Flash Trigger and Transmitter 2.4G provides remote triggering as well as up to eight stops of wireless power control for select flashes equipped with the XTR-16 receiver. It features a reliable 2.4 GHz radio system with an impressive range of 328′ along with a choice of 16 channels. Users can sync at speeds up to 1/250 second and there are multiple power control settings for working with speedlights or studio flashes. Additionally, it runs on two easy-to-find AA batteries.
Godox: Wistro, Quicker, Quicker D, QT, QS, Gemini GT, Gemini GS, DE, and DP series
Godox CB-01 Hard Carrying Case with Wheels
With dimensions of 30.7 x 9.4 x 9.4″, the CB-01 Hard Carrying Case with Wheels from Godox can hold a two- or three-light kit with accessories, making it ideal for Smart, Mini Pioneer, and Mini Master series equipment. It has a similar design to that of travel suitcases, with inline skate wheels and a top handle that allow you to easily roll the bag along on smooth surfaces. For short distances, straps on each side of the bag can be connected via a detachable grip for simple hand carrying.
The case offers a spacious main compartment for holding most of the equipment, which closes via zippers to ensure everything stays safely inside. It features a zippered pocket on the interior of the lid for small accessories or everyday items. Finally, a clear window on the front of the bag allows you to insert a tag with your name or phone number for easy identification when traveling.
Godox MS300-V Studio Flash Monolight Specs
Flash Head
| | |
| --- | --- |
| Maximum Power | 300 Ws |
| Guide Number | 190.3′ / 58 m, ISO 100 |
| Flash Duration | 1/2000 to 1/800 Sec |
| Recycle Time | 0.1 to 1.8 Sec |
| Color Temperature | 5800K +/- 200K |
Sync
| | |
| --- | --- |
| Sync Type | Button, Cable, Optical, Radio |
| Built-In Wireless Receiver | Yes |
Power
| | |
| --- | --- |
| AC Input Power | 110 to 120 VAC, 60 Hz |
| Circuit Protection | Fuse |
General
| | |
| --- | --- |
| Display | LCD |
| Dimensions | ø: 5.0 x H: 6.6 x W: 11.1″ / ø: 12.6 x H: 16.7 x W: 28.3 cm, Including Cap, Handle |
| Weight | 2.9 lb / 1.3 kg |
Packaging Info
| | |
| --- | --- |
| Package Weight | 5.39 lb |
| Box Dimensions (LxWxH) | 13.2 x 9.1 x 7.3″ |